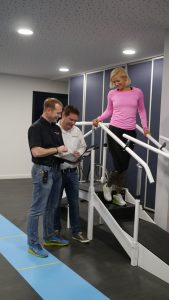 Since 2016 the athletic Vanessa Low is a satisfied client of Orthopädie-Technik Scharpenberg. Our orthopedic master Hendrik Hörenz take care for the athlete. Since 2011 they are a well-rehearsed team. Vanessa is following her orthopedic-technician to the Baltic Sea, who moved from the South of Germany to the North because of professional challenges. Even though Vanessa moved to Australia, she still comes to Rostock for her supply.
She gets her special running prothesis from Orthopädie-Technik Scharpenberg, who work together with innovative industrial partners from the orthopedic technique branch. The prothesis are with special carbon shafts for sports and it is equipped with a liner-system. On the left side it is shored with a pin-vacuum-system, which was just produced for Vanessa Low, for an optimal adaption while she is running. A special PU-Liner in the vacuum system is in the right sport prothesis.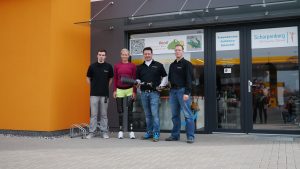 She uses the dynamic knee-waist 3S80, which are special sport manufactures. Since last year Vanessa uses the Cheetah Xtreme Carboon Foot from Össur, which is specialized for short distance and sprints.
In the everyday life she uses different prothesis. She wears the Genium knee waist. Actually, she tests the waterproof Rheo XC knee waist and the Profley XC feet from Össur.