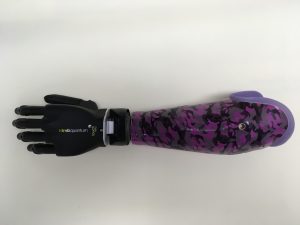 Latest technologies in the sector of prothesis for upper extremities!
An amputation is always a turning point in the life! So we want to support and help you and your family. That we can offer the best supply, our employees drive to different trainings to be up-to-date.
We are here for you from the beginning – we supply you with your interim prothesis. Subsequent we provide you with the optimal definitve prothesis. Our aim is it, that you are provided with the latest technologies from the beginning. The supply concept, which we make for you, is made individual for you! It is possible to test your prothesis for a while to find out, if this one is the right one.
We can offer an interdisciplinary team with doctors and physiotherapists. If you have any problems with your payers, we support you, that you can get your supply completely.
Beside our walking school, we also offer a practise training for your arm prothesis. If required, we can change something with your prothesis. Feel free to take a look on our page of our walking school.
If you have any questions feel free to contact us with our contact form.