Prepreg carbon is a material, which comes from the automotive- and aircraft construction industry. For the orthopedic it is perfect to adjust, because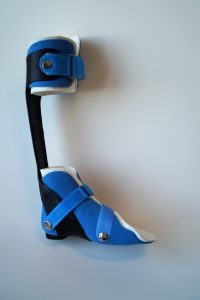 the physical characteristics are perfect.
The prepreg-carbon fibre are known because of their low dead weight as well as the high resistance. So the production of light, but functional orthosis with a high stability is possible. For our clients it promises a high wear comfort, because the orthosis adapts to the natural movements and give support. This material is perfect for the production of individual orthosis.
Because of their durability, the orthosis can be worn for a long time. So the prepreg-carbon orthosis are permanent and receive the medical functionality. Furthermore, the carbon fibre don't trigger allergies, guaranty the highest movement comfort and orthosis are hardly visible under the clothes. The patient has a maximum support.
At the affected parts it is possible to choose a higher number of films at the orthosis and to give a higher support to this part.