Henry Kaminski is 50 years old and after an accident in 1989 with a landmine is he above-knee amputee.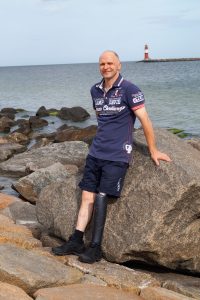 As a peer he advises in hospitals as a volunteer. He helps concerned persons by coping with problems, if they need an amputation. Even though he advises people with an amputation. Because of his own experiences the advises are at eye level.
Already 2008 we invited Henry Kaminski to a sailing trip – as a tester for a special safety construct. After the trip Ralph Scharpenberg talks with him about this experience:
Ralph: Hey Henry. Saturday was the big day on the racing yacht. What makes you thing that?
Henry: I'm living close to the Baltic Sea and like to drive to deep-sea fishing. Despite of my disability, I'm above-knee amputee, I always wanted to go sailing and then I got the offer to be a test pilot.
Ralph: Did you had any doubts, that it gets difficult?
Henry: No, I convinced myself from your construction and confide in you. Who builds a perfect prothesis for me, wouldn't let me fall overboard.
Ralph: Thanks! But you were really good and even the inclines were no problem for you!
Henry: It wasn't a problem. Because of the bucket seat and triple safety system – it was like sitting in
a loge. I could oversee the whole yacht and make a lot of pictures.
Ralph: Was it comfortable beside the safety?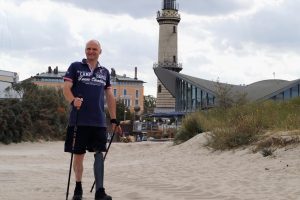 Henry: Oh yes, it was comfortable and warm. After some encouragements I also went to the reeling sometimes. I just can recommend it to people, wanting adventures even though they are amputee. It was perfect!
Ralph: Would you like to do it again?
Henry: Of course, yes!
Ralph: Do you have any tips for our readers?
Henry: I try to live my live and I don't want to get pinched. If I have to possibility to try something new, I am all for it! To have no leg is bad, but not to try anything is worse. I just can say: "Try it, it's a lot of fun!"
Ralph: Thanks Henry!